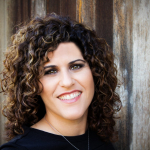 Toni-Marie is proud to tell anyone that will listen that she is a true-blue farm girl, born and raised in Tipton, California. Population: A LOT more cows than people.
Growing up on a dairy, it was hard not to be in the center of all things agriculture. In high school, Toni-Marie was very active in FFA, showing animals and competing in public speaking competitions. She even judged dirt! Toni-Marie had every intention of becoming an Ag. teacher until she was bitten by the radio bug in the summer of 2001.
She started her radio career at her hometown station, KJUG in Visalia, California. She would go on to work her way up the Central Valley to Merced and then back down to Bakersfield, where she spent more than ten years working at the legendary KUZZ, the pride, and joy of Buck Owens Productions. Other stops along the way include Las Vegas, another run in Bakersfield, and, most recently, KWJJ/ 99-5 The Wolf in Portland, OR.
After spending so much time in Bakersfield, aka "Nashville West," TM couldn't be more excited to be packing up her life and joining all of us here at 103-3 Country as we take over Music City. In her off time, Toni enjoys hanging out with her baby girl, Miss JoJo, a Maltese-Shih Tzu mix that is 12 pounds of pure sass & snuggles. If you're not careful, she will show you the thousands of pictures she has of her on her phone. Toni also enjoys spending time with family & friends, attending every live music event she can, and is a self-proclaimed "book-worm," that needs to get better acquainted with all the best streaming shows, so send suggestions.
Really, send them! It'll help break the ice J